Hello, hello!  Today I am here to tell you how to make what is probably my favorite type of flower to make: glamorous silk flowers.  My friend Emily taught me how to make these back in my pre-blogging days when I was something of a crafting dummy.  They were her signature accessory, and I always smile and think of her when I put them on my little lady.
These flowers are beautiful and glam, but they are also super simple and come together at lightning speed, so I decided to share this tutorial as part of Craft Lightening week, organized by 30 Minute Crafts and The Country Chic Cottage.  These talented ladies challenged me to share a tutorial with you that could be made in 15 minutes or less, and, dear readers, this is the one.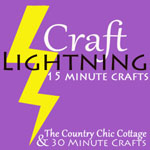 I should mention that there are definitely varieties of this tutorial which may taken longer than 15 minutes.  It depends on whether you are mixing up the types of fabric (you can add in layers of tulle, etc.), how many layers of "petals" you use, and if you choose to sew with pearls or seed beads rather than hot glue with rhinestones.  I have a few examples of variations of these flowers at the bottom of this post.  But, let's be honest, I'm all about the bling, as well as being lazy, so I prefer the hot glue gun and rhinestone method.
One more thing before we get started: if you learn best via video then be sure to check out the video tutorial that I have included at the bottom of the post.  Nothing fancy, but it's another way of learning for those who are interested.
Now let's do this thing!
For this project you will need the following:
–  polyblend satin
–  rhinestones
–  scissors
–  a hot glue gun and glue
–  a candle and match
At the end of the tutorial you can attach your flower to whatever you would like!  A pillow, a pin to use as a brooch, a clip to add to a belt or purse, a hair barrette, or a baby headband!  I be you will never guess which one I did….  😉
Start by cutting several circles of your poly-satin.  I just freehand mine.  They do not need to be perfect circles, because they are going to warp anyway once you melt them!  You can make the largest circle as huge or a dainty as you would like!  For these mid-sized blooms I usually use about five circles.  When I make huge blooms I use many more than that.  The tighter together the "petals" are the more full the flower will appear.
Light the candle and get the fabric close to the flame, slowly turning the circle as the fabric melts and curls up a bit.  Repeat with each circle.
Time to glue!  Put a dot of hot glue in the center of each circle and pile them on top of one another.  Top the final circle with a rhinestone as the center of the flower.
Pretty easy, right?!  And so cute, especially on my girl….
As promised, here are a few variations:
So versatile!  But I can't believe how fast my little girl is growing up…..  Ay ay ay.
Here is the video tutorial, as promised:
Happy Flower Making!!